Graphic design matters – a lot. I'm sure many of you would agree. A company's image can rely heavily on their graphical elements. Look at companies like Apple, Nike and Amazon. Their logos alone encapsulate each brand's vision and personality. Each is unique in its own right.
What's more is that their brand design never fails to carry over into other consumer-facing channels. From their social media handles to their online ads, outdoor billboards, flyers and packaging, their brand image is consistent, attractive and identifiable.
Impactful design is the kind of stuff that many small businesses hope to achieve for their own brand. But the reality is that graphic designers aren't always available for your day-to-day needs. Maybe their bandwidth is short; perhaps their quote for a project would have broken your budget. The point is, it's not always viable to have a graphic designer involved every single time you need a visual piece created.
Unfortunately, this is one of the most common challenges small businesses face. Creating visually appealing designs that represent your brand and bolster trust among customers usually takes time, a specific skill set, and expensive design software. But what if it doesn't? 
Today I want to outline a web app that all small businesses should keep in their arsenal for those times when leveraging a professional designer just isn't doable. Please, for the love of brand marketing, do not succumb to using clip art or stealing online images for customer-facing materials. (Yes, I've seen this happen). There's a better, professional way to fake your design prowess.
An Intro to Canva
First, let me say that this post is not sponsored. We don't have any affiliation with Canva. I just genuinely find this tool extremely helpful and, more importantly, simple for us non-designers.
Canva is an online app that lets you create fast and easy designs. The Pro level account starts at $9.95 US a month with a free 30-day trial.
I have a free account and, to be honest, it's all I've ever needed. Depending on your particular needs, the free account might be enough! Budget-friendly tools are such a bonus.
Design Practically Anything
This is where Canva has the edge over other design apps I've used. They have a massive library of over 50,000 ready-made templates to leverage. Simply select a template to start with, edit the text, select an image from their library (or upload your own imagery!) and you're ready to download. Most of the templates, fonts and images are free, so teams with a limited budget especially will love it. Others, I've noticed, start from as low as $1 so it's not likely to break the bank.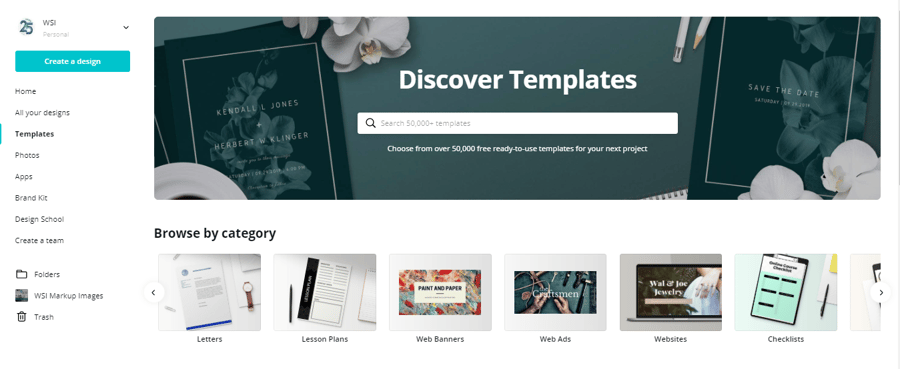 Template categories vary for needs too. Brand new businesses can start by exploring Canva's pre-made logo templates. From there, templates for business cards, stationary, brochures and even websites are available. My favorite thing about their template library is the variety of designs they provide to suit different styles, audiences and industries.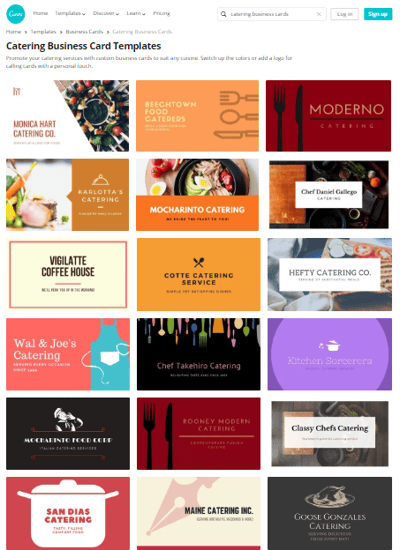 For example, suppose you start a small catering business and need to quickly create new, affordable business cards. Here's a glimpse of some of the pre-made business card templates they have if you search for "catering." (There are even more templates I didn't capture in this shot!)
Now if you do have a graphic design background, you'll probably like the familiar editing features available. Similar to Photoshop and Illustrator, Canva allows you to create separate canvases to work within. Typographic designers can adjust the tracking and kerning of text. You can even define specific Hex color codes for your design elements if you need to.
So whether you're an amateur designer or you have an advanced graphic designer on your team, there's plenty of inspiration you can draw from Canva's collection of templates, images and even fonts.
Content Marketing, Social Media and Canva
Around here, content marketing is always a hot topic. How to produce fresh content, best practices for appealing to your audience, learning what content is share-able, standard image dimensions for social channels…the list can seem endless.
Needless to say, the content marketing world might be a little foreign to the same small catering business I referenced earlier. What's a caterer to do when their competitors are all over visually-driven channels like Facebook, YouTube, Instagram and Pinterest?
This is where Canva can fit into a full blown content strategy. Here's a glimpse of key features I like:
Social media standard sizing – when it comes to social media images, one size does NOT fit all. Twitter header sizes differ from Twitter post images; same goes for Facebook ads and Pinterest's pins. Optimizing your imagery for each individual channel can determine how eye-catching your content is to your audience. TIP: See "Social Graphics" templates for an entire collection of pre-made graphics for Instagram, Facebooks ads, YouTube thumbnails and even Etsy shop icons. Dimensions and resolutions are all taken care of for Canva users.
Variety of display ad formats – new businesses in particular might not realize that ad sizes can heavily impact conversions. Catering businesses everywhere can rest easy knowing that Canva's web ad templates come in standard sizes for leaderboard, skyscaper, rectangle, inline rectangle sizes and more. So you don't have to worry about learning all the different sizes!

App integrations to streamline workflow – a great feature to all teams looking to scale or boost efficiency is Canva's tool integrations. Canva can connect to other popular third party platforms like Mailchimp, LinkedIn, Pinterest, Twitter and more; loading Canva designs directly onto platforms can be a huge productivity boost for any online strategy. TIP: If you're a larger team or have an outsourced designer, the integrations with Slack, OneDrive and WeChat promote quick, easy and real-time collaboration.
Canva is a powerful tool in a small package. Learning how to use Canva to make impactful images, which you can across across multiple platforms and channels, is something every marketer, team and business owner can start doing today. The ratio of time/effort vs the impact Canva can have on your marketing efforts is the exact type of big win every business needs to make the jump to that next level they've been striving for.
About the Author
Cecilia is a member of the Marketing & Communications team at WSI Home Office. In addition to working closely with our certified agencies, franchisees, and suppliers, Cecilia also heads up WSI's Google Alliance Group which focuses on paid search trends and best practices.